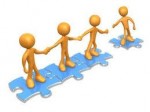 Community Justice Centres
provide free mediation and conflict management services to help people resolve disputes. Funded by the NSW Government as part of the Department of Justice & Attorney General, our services are confidential, timely, easy to use and voluntary (we also accept mandatory court referrals). We provide services throughout New South Wales.
Why Mediate?
Mediation provides a safe and informal environment for people to talk to each other to sort out problems. There is nothing to lose! Over 80% of mediations result in an agreement being reached. People are more committed to the outcome because they take part in the decision-making. Even if agreement cannot be reached there has been the opportunity to clarify the issues and understand each other's point of view. Read more
Community Legal Centres (CLCs) are independent community organisations providing equitable and accessible legal services. NSW CLCs work for the public interest, particularly for disadvantaged and marginalised people and communities. If you are looking for legal advice at a centre close to you click hear and then enter your post code in box provided.
Legal Aid (02) 9219 5000 has a central office in Sydney and 20 metropolitan and regional offices. Family law advice is available without an appointment at our central office in Sydney. Parramatta office has clinic days for family law advice on Monday, Wednesday and Friday 9.30am to 12.30pm and 2pm to 4pm. read more

LawAccess NSW (1300 888 529) is a free government telephone service that provides legal information, advice and referrals for people who have a legal problem in NSW.
In particular, they assist people:
who live in regional, rural and remote areas of NSW
who are Aboriginal or Torres Strait Islander
who have a disability
who are from a culturally and linguistically diverse (CALD) background
who are at risk of harm
who have an urgent legal problem
Local Courts NSW
Nobody likes to deal with the court system, but when you have to, it is good to have the right information at hand when it is needed. Click here to go to the Local Courts NSW website
Find legal answers

to everyday questions about the law in NSW 

click here