Contact: David Gillies –
Director
(02) 9651 2599 

email David



Prisoner and Aftercare Support Services (PASS) is a Christian reintegration and aftercare program for prisoners returning to the community. The program provides a holistic 6–12 month residential post-release phase (PASS) – including ongoing support for program graduates. Apart from providing a 'seamless' prison-community re-entry process, a unique feature of the program is its faith and character-based approach to offender rehabilitation.
The Program's objectives are to …
• provide offenders with an opportunity to change through personal empowerment and transformation
• disciple offenders to a mature and sustainable Christian faith
• restore offenders to their family, victims (where possible) & the community
• reduce reoffending
• introduce graduates to churches of their choice, who have been trained in care of ex offenders
• achieve excellence and leadership in correctional programming
• affect prison reform

Five8 – an initiative of PASS is centred around a prisoner for at least two months prior to release. It is a Circle of Support and Accountability that will assist and empower them to make better life decisions which builds a better life and keeps them from returning to prison.
Five8 is prison rhyming slang for "My mate". a Five8 is considered trustworthy and loyal.
To find out more about the FIVE8 initiative or listen to an interview about FIVE8 in action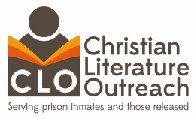 Christian Literature Outreach (CLO) is a program that provides  free, biblical-based Christian resources to prisons across all of Australia and New Zealand. Their prayer is that through these resources, prison inmates may come to experience the love, healing and redemptive power of Jesus Christ.
Presently CLO supply resources to Correctional and Juvenile Justice Centres located in all Australian states, ACT and New Zealand. CLO resources include:
'The Word for Today' monthly devotional
'Our Daily Bread' monthly devotional
'EveryDay with Jesus' monthly devotional
'Thrive' monthly devotionals
Chinese monthly devotionals
a wide range of Radio Bible Class Discovery Series booklets – over 100 titles including topics such as character building, anger and violence management
books and novels
inspirational booklets
comics
CD's and DVD's
Christian Newspapers
a free bible available to all inmates who complete and return a 'reply paid' card
CLO now distribute monthly in Australia & bi-monthly in New Zealand. Annually distributing over 100,000 Christian resources to inmates and those released.
To find out more about the Christian Literature Outreach Program